Treatment standards and methods
A. Purpose of the regulation
To effectively control pests and prevent in advance various harmful accident anticipated when applying treatment
B. Main agent conducting treatment
Fumigation treatment on import and export plants shall be conducted by a pest control agent, and heat treatment of import and export wood and wood packaging materials by a heat treatment company.

Chemical spraying, dust coating, dipping, dry heat, heat, cold temperature, vapor heat treatment, submersion and hot water dipping can be applied by exporters them selves
C. Treatment program
In case of importing grains, gourds, woods and bamboos using aircrafts, vessels, vehicles suspected of having regulated pests, or through dedicated vessels, ship inspection can be conducted and if an importer submits disinfection plan for the whole ship, vessel inspection can be left out and disinfection can be applied.
D. Treatment standards and methods
Treatment standards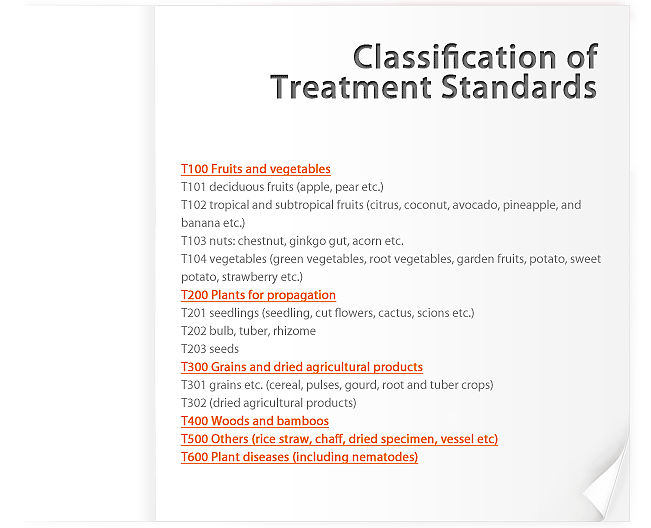 Disinfection of plants and pests which were not mentioned in the treatment standards shall be carried out in compliance with biology and characteristics of similar plants and pests.
Plants for consumption shall first apply fumigation agent PH3
Treatment methods include fumigation, chemical spraying, dust coating, dipping, dry heat, heat, cold temperature, vapor heat, submersion and hot water soaking.
Treatment shall be applied according to the inspection lot.
If the inspection was conducted on the whole volume, treatment shall be applied to the whole volume.
If the inspection was conducted based on the inspection lot, treatment shall be applied to each inspection lot.
In case the importer wants destruction or return more than treatment:
Destroy after submitting consent form;
If required to conduct disinfection before destruction, destroy or return after disinfection; and
In case of plants imported via post, treatment can be applied after receiving consent from the owner or the agent by phone or verbally.
In case a long period of time is required for inspection due to difficulties in identification and classification, caused by death or growth suspension of pests intercepted during the quarantine, the consignment may be treated, destroyed or returned.
If an importer submits treatment plan for the entire volume, the consignment can be treated even before the identification and classification.
E. Measures against plants that have concerns for quality damage and phytotoxicity
A plant quarantine inspector who has issued a treatment order for plants that have concerns for chemical injury shall notify the importer, owner of the consignment in transit, or agent on the possible quality damage, phytotoxicity and other damages verbally, by telephone or using methods indicated on the treatment order.
The consignments can be treated only when the treatment consent form is submitted by the importer.
Nevertheless, it would be exempted in case the consignment is required to be treated before destruction.
If there is no consent, the consignment would be destroyed or returned.
F. Checking of treatment application result and submission of treatment result
Grains and dried agricultural commodities (after the treatment application)
Check for destruction of attached pests - or test insects.
Woods and bamboos (after the treatment application)
Check if the final gas concentration conforms to the treatment application standards.
However, if the concentration is below the standards due to time lapse after opening the door, check for destruction of attached pests.

Main ship: 15mg/ℓ in tent 24 hours treatment 15mg/ℓ, 48 hours treatment over 12mg/ℓ (in case of sawn woods 10mg/ℓ)
The minimum dosage is 10g and
Fresh plants (fruits, vegetables, and seeds and seedlings) (for application and opening)
Fumigation: Check final gas concentration and destruction of attached pests or test insects.
Sterilization: Application of dust coating will substitute treatment effect
Others (after treatment application)
Check if the final gas concentration conforms to treatment application standards.
In case of container treatment, container sampling standard in Guidelines for Import Plant Quarantine notified by Director-General of National Plant Quarantine Service should be applied in checking the door opening.
The pest control operator should compile the report of the fumigation result and submit it to the plant quarantine officer present.
The details of treatment should be recorded in the daily record of import and export plant fumigation or put in to the information system.
Issuance of a treatment certificate of wood in transit from another country or being re-shipped.
By checking the treatment result report submitted by the pest control operator, a treatment certificate will be issued.
G. Re-treatment
In case the cargo hold cover of sealed subject of fumigation, door, or tarpaulin is open or damaged before the expected opening time.
In case attached pests or test insects are alive or in case the result falls short of the treatment standards
In case the final gas concentration for fresh plants falls short of the treatment standards, revised standards may be applied.
Treatment standards for export plants
Plants for export or plants in negotiation with export partner should be first applicable to requirements of the importing country.
.Upon request by an importing country, details of treatment shall be included in the additional description.
Registration of pest control and facility inspection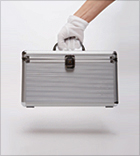 Upon a registration of pest control business, onsite survey should be carried out to check the facilities and equipments and if it is deemed as appropriate, the registration form will be issued.
One must inspect the manpower, facilities and equipments of pest control operator more than once a year and if it is deemed inadequate, improvements should be made.
Any pest control operator intending to register for the use of treatment marking for wood packages must manufacture treatment marking and submit an application for the use.
Administrative actions against pest control operator and things to comply by the treatment
industries
In case a pest control operator carried out poor treatment applications including fumigation and chemical spray, or in case threatened the safety of the fumigated item, in order to prevent dangers of fumigation, administrative actions may be taken against non-compliances.
Pest control operators and fumigation facility operators shall comply with relevant regulations of the laws including Plant Protection Act, its enforcement decree and enforcement regulations; import and export plant quarantine treatment regulations; and Agrochemicals Control Act, its enforcement decree and enforcement regulations.
Training of pest control technology
Anyone wishing to become a pest control technical expert should complete the training of pest control technology provided by the president of Korea Import and Export Plant Biocontrol Association and take supplementary training in every 3 years.
Checking and management of fumigation facilities
Anyone intending to use a storage, container, silo or barge as a fumigation facility should first equip facilities in accordance with "standards for fumigation facility" and apply for fumigation facility check, and the facility will be confirmed as a fumigation facility based on the result of document review and onsite inspection.
The valid period of fumigation facility check is from 1 year to 3 years depending on a facility. In case there are any changes to the facility, application for changes must be made.