Animal Health Research activities at APQA are focused on the development and improvement of technology for diagnosis of animal disease, control of animal diseases, prevention of foreign animal diseases, safety of animal products and management of veterinary pharmaceutics to enhance animal productivity and ensure public health.
LEAP TO OECD LEADING GROUP BY 2014 IN KOREAN VETRINARY RESEARCH AND DEVELOPMENT
Research and Development process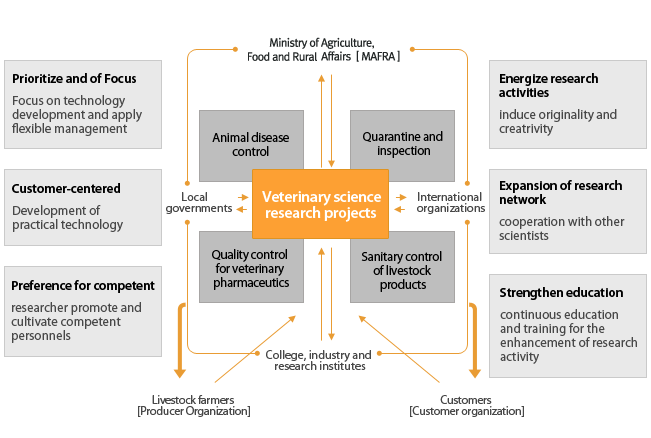 1. Research and development (R&D) management
- Development of long-term research plans in the field of Veterinary Science and Plant Quarantine
- Operation of Data-based (DB) management system for research projects and those products
- Strengthening of incentive programs that award excellence in research
- Expension of domestic and international research collaboration
- Establishment of (OIE) certificated reference laboratory and ISO/IEC 17025
- Provide basic free service such as collection, deposit and distribution of biological material of animal pathogens (http://kvcc.kahis.go.kr/index_english.jsp)
2. Research on the control of major animal diseases
- Research on the control of bacterial and viral diseases including Johne's disease, classical swine fever (CSF), Foot-and-mouth disease(FMD), etc.
- Research on avian diseases including Newcastle disease (ND), fowl typhoid, etc.
- Development of technologies for rapid diagnosis of foreign animal diseases including rinderpest, etc.
- Research on vesicular diseases including swine vesicular disease, vesicular stomatitis and etc.
- Research on transmissible spongiform encephalopathies including BSE, CWD and Scrapie
- Research on emerging exotic disease including West Nile Fever, Bluetongue and etc.
- Research on aquatic animal disease including Edwardsiellosis, Aeromoniasis, etc.
- Research on the development and quality control for - veterinary pharmaceutics
- Research on enteric & respiratory disease and food-borne disease
- Research on mastitis and hygiene of raw milk
3. Research on the surveillance and control measures against zoonoses
- Establishment of long-term road map for research of major zoonoses
- National surveillance/ monitoring on TSEs, and major foreign animal diseases
- Research on emerging diseases including BSE, avian influenza, West nile disease, etc.
- Research on endemic disease including anthrax, tuberculosis, brucellosis, rabies etc.
- Research on the control of parasite, and tick-borne, and insect diseases including sacbrood in honey bees, toxoplasmosis, etc.
- Research on the control of companion animal diseases including canine influenza virus etc.
4. Research and development of diagnostic methods, vaccines and therapeutic agents for the control of animal diseases using advanced biotechnology
- Development of DNA chip for differential diagnosis of - classical swine fever
- Development and application of Japanese encephalitis attenuated live vaccine
- Development of diagnostic technologies, vaccines, and antiviral agents against FMD
5. Research on the safety of food of animal origin
- Management of national residue programme (NRP) in food of animal origin
- Research on the evaluation of toxicity and risk assessment of toxic chemicals
- Development of analytical method and monitoring of hazardous chemicals (veterinary drugs, pesticides and environmental contaminants) in food of animal origin
- Research on pharmacodynamics and residue depletion for veterinary drugs
- Development of rapid immunological assay kits for veterinary drugs in foods of animal origin
- Research on multi-drug resistant bacteria and prevention of microorganism contamination
6. Technical assistance on the basis of research projects
- Rapid diagnosis and early response of newly emerging animal diseases
- Operation of reference laboratory and standardization of inspection methods to ensure safety of livestock product
- Development and distribution of diagnostic reagents and technical support for diagnosis standardization
- Technology distribution and education to provide solutions to problems faced in the field
7. Animal stem cell research and application
- Establishment of animal stem cell bank
- Use of animal stem cell to control livestock diseases and zoonosis
- Development of animal stem cell therapeutics to cure companion & leisure animal diseases
- Application of animal stem cell for drug discovery and toxicity
- Development of stem cell model for the screening of toxicity and therapeutic effect of chemicals